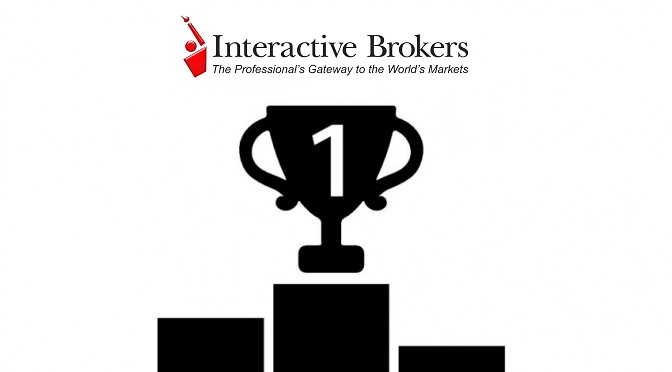 RECOMMENDED FOREX BROKERS
Do not invest more money than you can afford to lose.
Last week we compared largest FX brokers in terms of trading volumes, where the leader for February is GMO Click. Another key performance indicator is market capitalization, as most FX brokerage companies are listed in the stock exchange.
Currently the total dollar market value of Interactive Brokers Group, Inc's shares is the highest, scoring $16.27B. Here is a comparison of some of the largest forex brokers' market capitalization by March 21, 2016:
FX Broker
Market Cap by 21 March 2016
(in billions dollars)
Interactive Brokers
16.27
IG Group
4.35
Plus 500
1.16
CMC Markets
1.08
Monex Group
0,80
GMO Click
0,77
Gain Capital
0,36
Money Partners Group
0,23
FXCM
0,06
The largest FX broker by market capitalization, Interactive Brokers Group, Inc (NASDAQ:IBKR), is a US-based automated forex broker with numerous subsidiaries, holding licenses by the relevant authorities in the US and the UK. Earlier this year the broker posted financial results for February, marking a 21% growth of DARTs YoY. Unlike the other companies in the table above, most of the Interactive Brokers Group's revenues, come from services in stocks and futures brokerage.
Second in line is UK-based IG Group Holdings PLC (LON:IGG) with market cap of $4.35 billion. According to a notice posted with the London Stock Exchange (LSE) in the beginning of 2016, Forex and CFDs broker IG Group Holdings hit a record-high interim net trading revenue of £214.8 million for the six months ended 30 November, 2015, which represents an increase of 8.8% from the same period a year earlier.
Market capitalization of London-listed Plus 500 (LON:PLUS) currently amounts to $1.16 billion. The price of the Plus500 shares on the London Stock Exchange experiences steady upward trend since its acquisition by Playtech PLC (LON:PTEC) was cancelled in November. The price of the Plus500 shares on the London Stock Exchange experiences steady upward trend, coming in at 659.34 GBX Per share.
CMC Markets PLC (LON:CMCX), another London-listed online brokerage of forex and contracts for difference (CFDs), went public with its initial public offering (IPO) earlier this year, setting the price of its initial public offering (IPO) at £2.40 per share.  Presently the total dollar market value of its outstanding shares is $1.08 billion.
Best performer among Japanese brokers in terms of market capitalization is Monex Group, Inc. (TYO:8698), whose dollar market value of shares amounts to $0,80 billion. Monex Group operates under three retail trading brands – Monex, TradeStateion and Boom. The broker reported on February its consolidated operating revenue increased 17% on the year to JPY 46.3 billion in the April 2015-January 2016.
Next in line is another Japanese brokerage, GMO Click Holdings Inc (TYO:7177), whose market capitalization presently amounts to $0,77 billion. GMO Click Securities, part of GMO Click Holdings, was the forex broker with the world's largest retail trading volume of JPY 144.3 trillion, or about $1.28 trillion, in February 2016.
Gain Capital Holdings Inc. (NYSE:GCAP) is the company operating Forex.com and City Index. It is the second largest forex broker in the US in terms of retail forex obligations after Forex Capital Markets (FXCM). It offers a number of trading services to retail and institutional clients, including forex, commodities, and global equities trading. Earlier in March the broker reported Net revenue of $ 435.4 million UP 19% YOY. Its market cap by March 21 amounts to $0,36 billion.
In addition, Money Partners Group Co Ltd (TYO:8732), which reported a 13% increase in its total global forex trading volumes for February 2016 MoM (reaching $42.9 billion), has market capitalization of $0,23 billion.
FXCM (NYSE:GCAP) comes last in line, as the total dollar market value of its outstanding shares amounts to $0,06 billion. Previous week the company's stock prices plunged by 27,9 %, which was an expected slump was expected, after the US forex broker announced a one-year extension of its credit agreement with Leucadia National Corporation (NYSE:LUK). FXCM is one of the largest forex brokers, offering online trading in currency pairs, CFDs, spread betting and related services It has units registered and regulated with the relevant authorities in the US, the UK, Australia, and France.
Speaking of the largest FX brokers, we have to mention Saxobank and Oanda. They are privately-held companies and as such do not offer or trade its company shares to the general public on the stock market exchanges.
Saxo Bank, a global bank and forex broker based in Copenhagen, Denmark, operating out of offices in 21 countries, was valuated at €1.25B in April 2015. Earlier this month the company reported its trading volume increased slightly on the month to $259 billion in February 2016.
Oanda, on the other hand, is one of the pioneer online forex brokers. Established back in 1996, It is now a large group with offices in Toronto, San Francisco, New York, London, Singapore, Tokyo, and Sydney. ALL group companies are duly regulated by the relevant authorities in the US, Singapore, Canada, the UK, Japan and Australia. Recently Oanda has signed deals for acquiring the clients of the US and Australian branches of IBFX.