US-based technology company Arrow Electronics launched in Thursday, in partnership with crowdfunding platform Indiegogo,  a crowdfund-to-production service, under which Indiegogo campaigns can get "Arrow Certified" and receive support of $1 million in flash-funding. The amount would be given to 20-50 campaigns on Indiegogo during the next 12 to 15 months.
"Arrow Certified" campaigns will also lock-in up to $50,000 for facilitating the prototyping and manufacturing of products. Certified campaigns that Arrow experts deem truly technologically exceptional will qualify as "Arrow Innovator" campaigns and receive additional support, including supply chain services and contract manufacturing support worth up to $500,000.
The collaboration aims to accelerate the pace of innovation for technology and internet of things (IoT) entrepreneurs.
"Arrow is leading IoT design and production for many of the world's largest companies. We are broadening these capabilities to support the rising wave of innovation coming from crowdfunding," Matt Anderson, Chief Digital Officer at Arrow, said.  "The comprehensive design, manufacturing and go-to-market support that Arrow will provide Indiegogo campaigns will help IoT and technology innovators succeed in even greater numbers, making Indiegogo the only game in town when it comes to launching an IoT or technology idea."
Indiegogo campaigns that obtain "Arrow Certified" status should meet certain eligibility criteria in order to compete for flash-funding. Arrow Electronics design engineers will perform a full review of candidate campaigns to determine originality of the technology and the idea behind a project, as well as the readiness of the campaign to deliver working prototypes. Once deemed ready for manufacturing by a team of analysist, campaigns will get certified and will receive an "Arrow Certified" badge visible by potential backers to indicate it is ready for production.
"This collaboration improves the experience for both entrepreneurs and backers on Indiegogo," said Indiegogo CEO David Mandlebrot. "Supporting the entire lifecycle for technology entrepreneurs—from idea, to funding, to manufacturing and ultimately retail selling—is a priority for Indiegogo and this collaboration with Arrow allows us to build on those efforts in an incredibly impactful way. At the same time, this alliance will enable backers to have greater confidence that they will ultimately receive their perks."
Arrow and Indiegogo partnered in May and the fintech is now a key component of Indiegogo's efforts to support the entire product lifecycle for entrepreneurs on the platform. The certification program will be held until the end of 2017.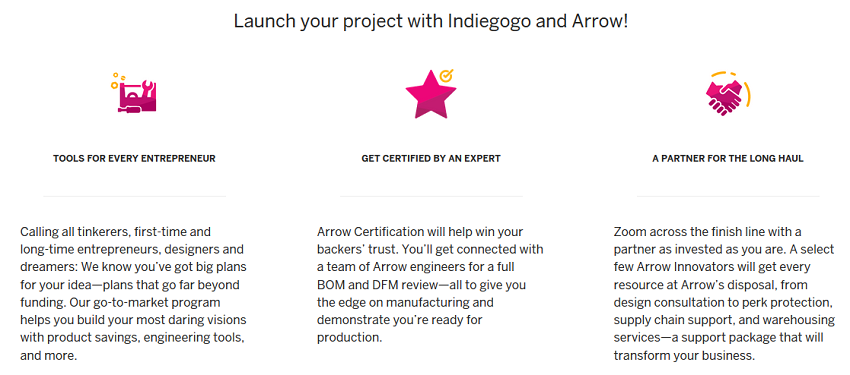 Arrow Electronics is a provider of products, services and solutions for industrial and commercial users of electronic components and enterprise computing solutions. It is active in more than 85 countries worldwide.
In addition to crowdfunding services, Indiegogo also offers pre-launch and marketing assistance to campaign holders. Users can create an Indiegogo Coming Soon BETA page to inform their targeted audience of the upcoming fundraising campaigns well as benefit from the Indiegogo Marketplace, where they can sell their products. More than $950 million have been raised through the platform since its launch in 2008. It is among the largest and most popular crowdfunding platforms in the US.