BTCC, one of world's largest bitcoin exchanges, announced it is releasing a set of six colorful bitcoin chips as collectibles.
The bitcoin chips come in six denominations that range from 1,000 bits (0.001 bitcoins, roughly $0.70) to 500,000 bits (0.5 bitcoins, roughly $356.10). Aside from the fun element of the new bitcoin chips, they can also be used for payments.
According to BTCC, underneath the hologram sticker on the reverse of each chip is a polyester round that has a private key with its QR code. It can be scanned to import each chip's bitcoins into any online wallet that supports the bitcoin private key format.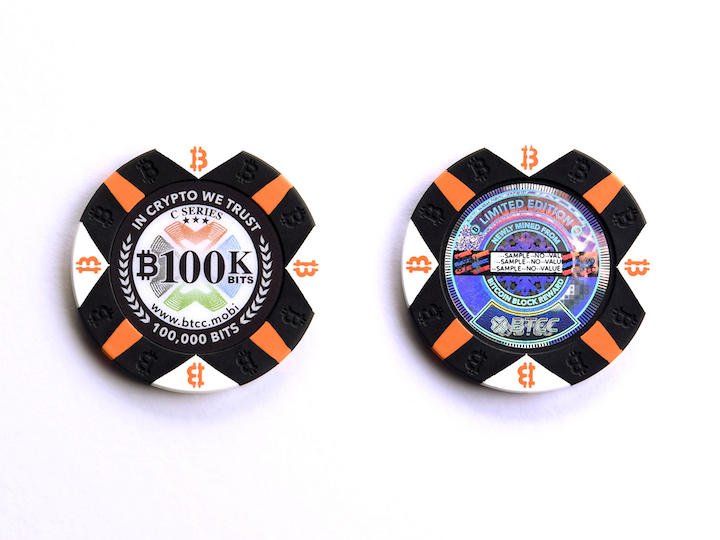 Customers can order the chips in various configurations of one to a few chips each, or in bulk rolls of 20 chips each. BTCC also offers customizable poker chip sets of 200 chips for poker fans. There is also the Six Color Signature Set. It consists of one chip from each Bitcoin Chip denomination adding up to six chips, with matching serial numbers.
BTCC (BTCChina) is based in Shanghai and is the world's second largest bitcoin exchange by volume. Its products include a Bitcoin mining pool, spot exchange, and pro exchange.
Bitcoin physical coins are more of a fad, than a trend, that started several years ago. Their purpose is either investment, or amusement.
There are numerous bitcoin "mints" that offer a variety of coins, some of them even gold plated, like the Denarium Bitcoin. There is also the TitanBitcoin that is made of one troy ounce of 24-karat gold and contains one bitcoin.
Some of coins, like the Antanacoins, are just collectibles. They are sold for bitcoins and are bitcoin-themed, but do not have a QR code and holograms, i.e. they cannot be used as payment.