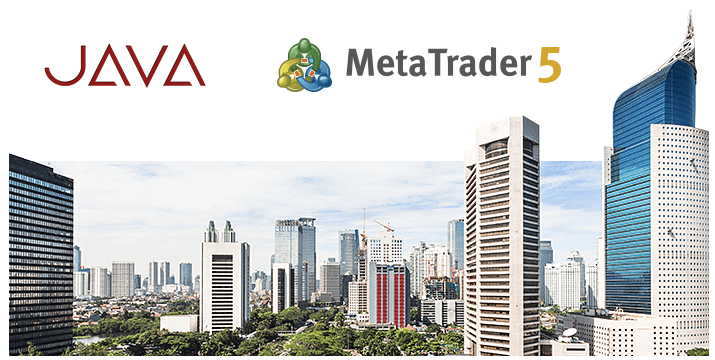 Do not invest more money than you can afford to lose.
Forex broker Java Global Futures has become the first Indonesian entity to adopt the MetaTrader 5 (MT5) multi-asset trading platform, Russian fintech company MetaQuotes, the developer of the platform, said on Wednesday.
MT5 discovers a new market with considerable investment opportunities – Indonesia, the fintech's statement read.
"According to our information, MetaTrader 5 prospects in Indonesia are quite promising, since it is an updated version of MetaTrader 4 which adds more features than the previous one", said Mr. Tan, analytics manager at Indonesia's Brokerforex.com portal. "We think, MetaTrader 5 can be a success in Indonesia, since traders in Indonesia are growing as well as brokerage firms," he added.
Initially, Indonesian traders who are used to the MT4 were skeptical to switch to the MT5. However, they have become better acquainted to the benefits and advantages of the platform over other platforms, its predecessor MT4 in particular.
"Frankly, Indonesian market is still very new to MetaTrader 5, since its members are mostly familiar with MetaTrader 4," said Vincent Yohanes Chandra, COO of Jakarta Futures Exchange. "Initially, we faced a lot of rejections as I think it is very natural that people are quiet resistant to changes (even if they are for good). However, we have been working very hard in educating our clients and marketing the benefits of MetaTrader 5 compared to MetaTrader 4, and it has been showing results over recent time. […] We strongly believe in propelling service delivery through robust technology; MetaTrader 5 is surely one of the vital components in delivering quality service."
Java Global Futures is a provider of trading services in forex, contracts for difference (CFDs), futures, metals and energies. It is authorized by Indonesia's Commodity Futures Trading Regulatory. The company is a member of the Indonesian Derivatives Clearing House (IDCH), Indonesia Futures Association (ASPEBTINDO) and Jakarta Futures Exchange (JFX).
MT5 is the successor of MT4, which is the worlds' most widely-used forex trading platform. It uses MQL5 programming language and allow automated trading via Expert Advisors (EAs). It is available as an application for desktop and mobile devices and features advanced charting package, trading and analysis tools, alerts, signals, and customizable indicators. The platform allows four types of order execution – Instant, Request, Market and Exchange.
MT5 has been increasingly gaining momentum as the number of forex brokers and traders using it has been growing.