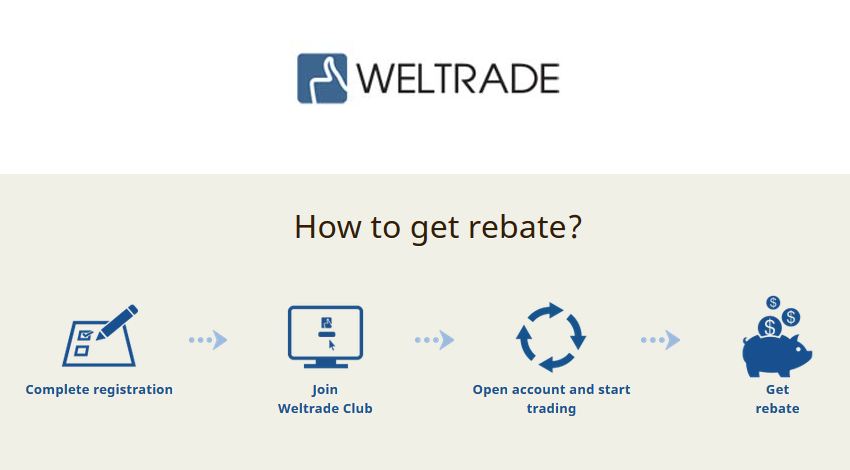 Offshore forex broker Weltrade said on Monday it has introduced a rebate service Money Box, under which it would pay back traders cash for each transaction they make. The offer applies for both profitable and non-winning trades.
The amount traders get under the new Weltrade rebate program per a single lot depends on the type of account they use and on their status. Traders need to take part in the so-called Weltrade Club in order to get a status and start earning rebates. The more trades investors make, hence the higher Weltrade Club status they have, the higher rebates they receive. Following is a table with the different rebates investors can earn in accordance to their account type and their Weltrade Club status:
Rebates are paid in US dollars (USD). Their calculation occurs once a day and is based on the number of deals executed over the past day. Traders can withdraw the amount they receive, or transfer it to any trading account or safe box, or use it for trading.
Weltrade offers several types of accounts – Micro, Premium, Pro, ZuluTrade and PAMM accounts for trading in forex, precious metals and contracts for difference (CFDs). Following are more details about the trading conditions of the accounts:
Weltrade is a trading name of Systemgates Capital. The broker was set up in 2006 as SystemForex and was rebranded in 2012. The company is based in Belize, where it received a forex broker license in December 2015 from the International Financial Services Commission (IFSC). It has four representative offices – in Russia, Ukraine, Belarus, and Thailand, as well as 126 regional partners in Europe Asia, Africa, and Latin America. Weltrade has more than 100,000 clients in nearly 20 countries, including Russia, the Commonwealth of Independent States (CIS) (former Soviet coutntries) and some Asian countries.
Forex brokers often conduct attractive rebate programs to encourage investors to be more active. Some websites are specialized in providing various forex cashback offers with a wide range of brokers. Such are PayBackFX.com, CashBackForex.com, ForexCashbackRebate.com, www.ForexBrokerCashback.com, www.hftgroupfx.com, and www.FXRebateGurus.com.
Source: Weltrade