RECOMMENDED FOREX BROKERS
Do not invest more money than you can afford to lose.
E-TRADE Financial Corporation (NASDAQ:ETFC) announced on Friday the results from a tracking study of experienced investors. According to the results, the favorite kind of exchange traded fund (ETF) of US traders is U.S. market index ETFs, followed by dividend ETFs, and sector- and industry-specific ETFs.
The survey was conducted from July 2 to July 11 of 2016 among an online U.S. sample of 949 self-directed active investors who manage at least $10,000 in an online brokerage account. Results also show how ETF preferences vary by age: Traders aged 55+ prefer dividend ETFs over any other type, while younger investors (25 – 34 years of age) are more likely to show interest in a range of less mainstream ETFs, including commodity, style, and foreign currency ETFs.
"The strong interest in U.S. market index ETFs suggests investors have faith in the domestic markets post-Brexit," commented Rich Messina, SVP of Investment Product Management at E*TRADE Financial. "While U.S. market index ETFs are by far the most popular choice, investors are exploring additional asset classes in search of yield, downside protection, and income generating positions."
Dividend ETFs, on the other hand, are popular for income: In a market characterized by uncertainty, geopolitical headwinds, and low fixed income yields, investors of all ages are turning to dividend ETFs as a possible source of income streams.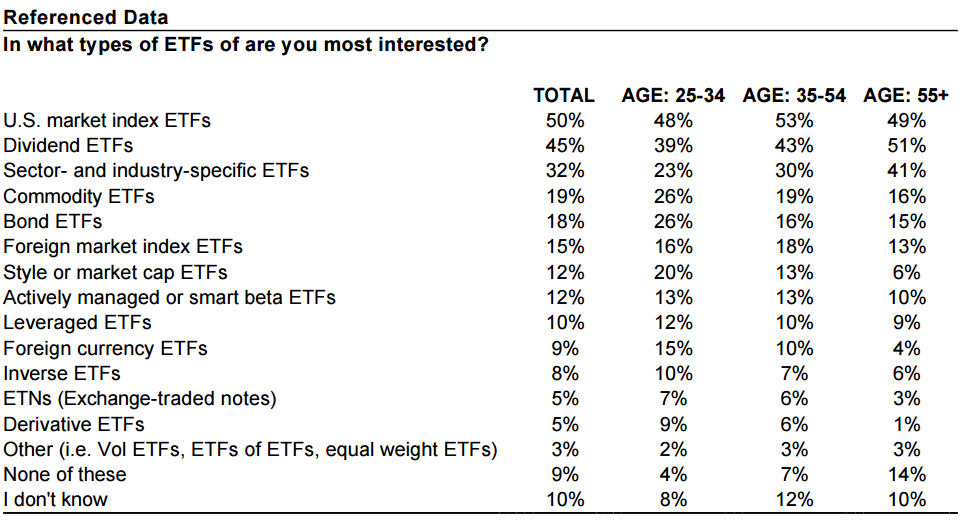 ETF is defined as a marketable security that tracks an index, a commodity, bonds, or a number of assets like an index fund. Unlike mutual funds, however, an ETF trades like a common stock on a stock exchange.
E-Trade regularly conducts and publishes investor data from studies. Earlier in February, the company announced that according to its study, US investors prefer digital hybrid accounts. A more recent E-Trade study from June showed that mobile investment apps are rendering desktops unnecessary.
New York-based E-Trade Financial Corp offers various financial, online brokerage and banking services under the E-Trade brand. It works primarily with retail clients through 30 offices across the US.
The holding company has three subsidiaries – E-Trade Securities for securities products and services, including stocks, bonds mutual funds, options, and ETFs; E-Trade Capital Management for managed account solutions; and E-Trade Bank for bank products and services.