RECOMMENDED FOREX BROKERS
Do not invest more money than you can afford to lose.
Invast Securities, a Japanese brokerage group with several local and international subsidiaries, has reported a 6.3% decline in its annual operating revenue for FY2017 that ended on March 31, 2017.
According to the official company data, the operating revenue stood at JPY 3.5 billion, whereas in FY 2016 it was JPY 3.8 billion. Not only its revenue decreased, but the brokerage ended the year in the red, garnering a net loss of JPY 118 million. The ordinary loss amounted to JPY 70 million.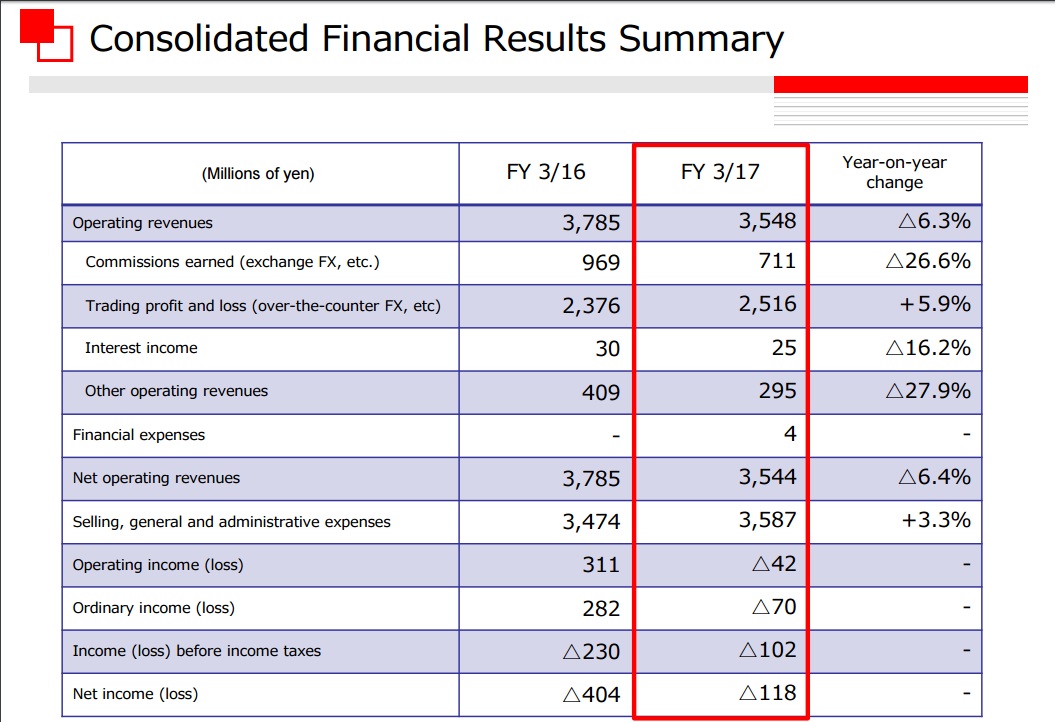 The brokerage says it launched a series of value-add services including the new ST24 Full Auto function throughout the year. In FY2017 Invast Financial Services (IFS) – the company operating the Australian subsidiary Invast Global – posted its first profitable year with revenues of JPY 780 million and a profit of JPY 166 million and steadily builds its customer base of institutional clients.
Despite the growth of IFS and the success of ST24 Full Auto increased the overall trading volume, the unexpected delay in the launch of the latter, together with the with the industry-low spread offed for OTC FX (the subsidiaries FX24, ST24, TriAutoFX) products dragged down both revenue and profitability. Sluggish market environment also affected the subsidiaries Click 365 (exchange FX) and Click Kabu 365, Invast noted.
Invast Securities, based in Tokyo, consists of a group of companies regulated by the Japanese Financial Services Agency (JSFA) and the Australian Securities and Investment Commission (ASIC) – the Invast Global subsidiary. The company offers trading in forex and contracts for difference (CFDs).