Do not invest more money than you can afford to lose.
| | | |
| --- | --- | --- |
| Broker | Metatrader  | Alternative Apps |
| XM | MT4,MT5 | XM App (iPhone and Android) |
| FXTM | MT4, MT5 | FXTM Trader (iPhone and Android) |
| FBS | MT4, MT5 | FBS Trader (iPhone and Android) |
| FPMarkets | MT4, MT5 | FPMarkets (iPhone and Android), Iress (Desktop) |
| OctaFX | MT4, MT5 | OctaTrader (iPhone and Android) |
| HFM | MT4, MT5 | HFM app (iPhone and Android) |
| Forex.com | MT5 | Forex.com (iPhone and Android) |
| Trading212 | x | Trading 212 (iPhone and Android) |
| Pepperstone | MT4, MT5 | cTrader (Desktop, iPhone and Android), TradingView |
| IC Markets | MT4, MT5 | cTrader (Desktop, iPhone and Android) |
| FxPro | MT4, MT5 | cTrader (Desktop, iPhone and Android) |
| Axiory | MT4, MT5 | cTrader (Desktop, iPhone and Android) |
| Skilling | MT4 | cTrader (Desktop, iPhone and Android), Skilling app |
| FxPrimus | MT4, MT5 | cTrader (Desktop, iPhone and Android) |
| Tradeview | MT4, MT5 | cTrader (Desktop, iPhone and Android) |
| RoboMarkets | MT4, MT5 | R Trader (Desktop, iPhone and Android) |
MetaTrader platforms have become synonymous with forex trading software. For the third decade in a row now, MetaTrader's market dominance is so great that the platform competes mainly with itself. It has taken more than a decade for MetaTrader 5 (MT5), originally released in 2010, to overtake its famous predecessor MetaTrader 4 (MT4) in terms of number of active users in 2021.
The reason MetaTrader has become an industry standard is that these platforms provide a complete solution for both professional and retail traders. The software is available as a desktop app for all major operating systems, a mobile app for Android and and iOS, and a convenient web version that can be used through a browser. The platforms feature extensive interface customization capabilities and a large number of graphical and analytical tools. Functionality can be further extended through available extensions and addons.
And perhaps most importantly, MetaTrader was a pioneer in the ability to automate trading through Expert Advisor bots. Custom scripts can also be used to backtest trading strategies. And if you're not capable or confident enough to create your own scripts, you have access to a huge number of scripts created by the community of traders that has formed around the platforms.
However, no one will deny that it is preferable for a trader to have a choice, even if the MetaTrader platforms are sufficient for his needs. In late 2022, MetaTrader's competitors received an indirect boost from Apple after the tech giant banned MT4 and MT5 mobile apps from its AppleStore. Many of the industry's leading brands were already offering their own mobile apps, but this development gave some of their clients an incentive to start using them.
There are also brokers that provide traders with full-fledged alternatives, including desktop and web-based software solutions that match or even surpass MetaTrader in functionality. Let's take a look at a few of the standout brands and their offerings.
cTrader
Probably the most robust and established alternative to MetaTrader is the platform called cTrader.
This software, which was originally launched in 2011, is available in web, desktop and mobile versions for Android and iOS devices. cTrader has all the features of the MetaTrader platforms, and even more technical indicators and timeframes than MT5.
cTrader offers a broader range of order types and modes than MT4, including advanced take profit and advanced stop loss, market orders, limit orders, stop-limit orders, market range, market order on open, good till the day, one cancels the other, and trailing stop.
But most crucially, cTrader offers full-featured automated trading, copy trading and backtesting. Traders can create scripts and customise indicators such as the Hull Moving Average or Harmonic Pattern indicator. Loading these bots is easier than installing Expedient Advisor bots in MetaTrader. The latest version of the software, cTrader 4.5, expanded and streamlined the copy trading functions and added Guest Mode, which allows investors to try out the functions of the platform without the need for registration.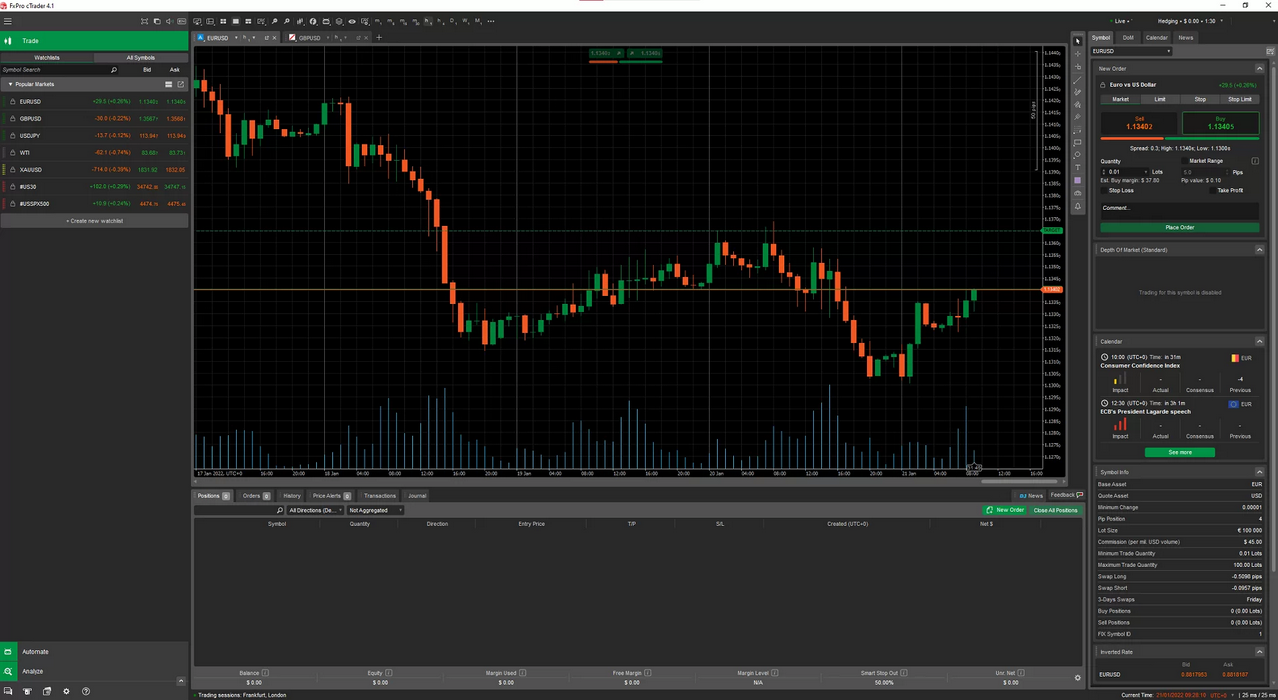 cTrader is offered by some of the leading global forex brokers that puts considerable effort into providing a variety of technology options to their clients, such as FxPro. The broker, licensed by financial regulators in the United Kingdom, Cyprus and South Africa, offers cTrader alongside the familiar MetaTrader 4 and MetaTrader 5 platforms FxPro points out as its main advantage that it is a No Dealing Desk Execution (NDD) broker. According to FxPro, this order execution technique outperforms traditional Straight-Through-Processing (STP) and Electronic Communication Network (ECN) in terms of transparency and speed. If you trade through a cTrader you can expect low spreads, close to zero, but FxPro charges a commission of 35 USD per 1 million USD traded.
IC Markets is also well-established forex broker, operating through licensed companies in Australia and Cyprus, as well as offshore subsidiaries in the Bahamas and Seychelles. Like its competitors, this broker provides the ability to trade all major financial asset classes. IC Markets also allows traditionally minded clients to use MetaTrader 4 or MetaTrader 5, but also offers a separate account type for trading via cTrader. This account offers trading with a raw spread close to zero, but the trader pays a fixed commission of 3 USD per side. This commission is lower than for those trading through MetaTrader, giving active investors a significant incentive to prefer cTrader.
Pepperstone  is another award-winning broker operating in Australia, the European Union and the United Kingdom. Тhe clients of this broker get an additional incentive to use a cTrader account over MetaTrader because it allows integration with the advanced charting and analysis tools of TradingView. In addition to the extra visualisation and technical indicator capabilities, this also gives you access to the world's largest social trading network with over 30 million users.
Another cTrader broker that deserves to be mentioned is RoboForex. This brand operates through companies in Cyprus and Belize. The offshore entity offers its clients extremely high leverage up to 1:2000, as well as a very wide choice of payment methods. This broker is also suitable for beginner investors because it requires a minimum deposit of only 10 USD.
Traders also have the option to use a cTrader if they are clients of the Cyprus-registered Fondex, FXPrimus and Skilling, the Maltese broker Tradeview or the Belize and Mauritius-registered Axiory. All these brokers offer competitive terms and low minimum deposit.
FOREXTrader
It is only natural that some of the biggest players in the sector invest in developing their own trading platforms. One of the leading brokers that have taken it upon themselves to offer such a full-fledged alternative to MetaTrader is Forex.com.
For the significance of this broker, it suffices to point out that it is one of the leading players in the United States market – a jurisdiction where high regulatory requirements allow only a small number of companies to offer brokerage services. Along with this, the broker is licensed in other leading financial hubs such as Hong Kong, Australia, the United Kingdom and Japan. Clients of Forex.com actually have only one choice to make when creating an account, and that is about the trading software – MetaTrader 5 or the broker's own platform FOREXTrader. Other than that, the trading conditions are the same for all customers. Forex.com does not offer ECN type accounts and clients only pay spread.
FOREXTrader is a fully-customizable trading platform available via web, download and full suite of mobile apps including for iOS and Android devices. The platform is equipped with advanced trading features, professional charting tools and integrated research and analysis. The platform includes enhanced TradingView charts as well as advanced drawing tools. FOREX.com points as advantages of its platform proprietary one-click-to-trade signals that provide clear and easy to follow trade parameters, fully integrated calendar, Reuters news and Performance Analytics – a tool that analyses your past trading behaviour to better inform your future trades.
The platform of course also has an automated trading feature called Strategy Center. Traders can use the included customizable trading strategies or they can build their own using the Strategy Wizard. Like MetaTrader, theStrategy Center includes the ability to back test strategies against historical data.
OctaTrader
Cyprus-based broker OctaFX also provides its clients with a wide selection of trading software, including its own web-based platform called OctaTrader.  
The platform has all the basic functionality for trading and placing pending orders, but lacks advanced functionality for automated trading. But for many traders, the simple interface and the ability to use it through a browser are a definite advantage.
It has now become standard for major forex brokers to have their own mobile apps. This became especially important after Apple banned mobile versions of MetaTrader from its AppleStore.
In addition to the brokers already listed, brands such as FXTM, XM, FBS and HFM also have their own mobile apps that match and often exceed the functionality of the MetaTrader app. One of the biggest advantages of brokers' own mobile apps is the ability to make deposits and withdrawals from your account balance.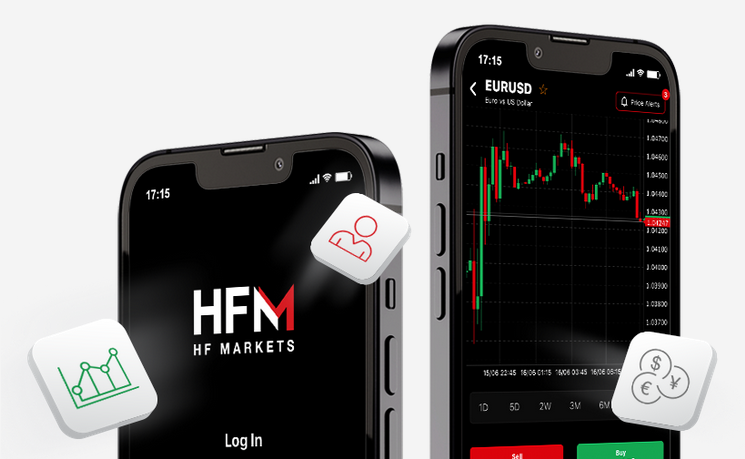 FXTM Trader app allows full control over your trading accounts, including registration of new accounts and the ability to deposit, withdraw and monitor your funds. Through the application the trader can receive the latest live updates on currency rates and use state-of-the-art charting tools and popular indicators. FXTM Trader has a one-click trading function, which allows you to quickly open and close positions when trading major, minor and exotic currency pairs, spot metals and CFDs on 180 major company shares.
FBS Trader app promises to be a powerful trading platform in a mobile format. The interface allows easy order placement when trading forex, stocks, metals, energy, indices and cryptocurrencies. The comprehensive charts and tools enable customization and analysis of price movements. The broker has included a cashback promotion in the app that allows you to earn up to 20% of the spread on each trade. But the ability to benefit from this bonus depends on whether it complies with the financial regulations that are applicable in your jurisdiction.
The mobile application offered by the broker XM is a customised version of the MetaTrader mobile applications with extended functionality. First of all, it allows the trader to make deposits, withdrawals and transfer funds between different accounts. XM App provides access to over 1000 instruments, instant order execution and no re-quotes, account customization options, advanced, up-to-the-minute charts and over 90 trading indicators. Of course the mobile app also provides access to the latest news, analysis and market research.
The HFM mobile app allows you to create live and demo accounts and trade over 1200 instruments across forex, stocks, commodities, bonds, ETFs and indices. Transactions between multiple accounts can be made through a single e-wallet. Functionalities include opening, closing and modifying positions and adding instruments to Favourites. The mobile app provides access to real-time quotes and market moving news. Of course there are also a host of charting tools and popular indicators.
Iress
Iress is an advanced trading software developed by an Australian-based company of the same name. At the current time, this very advanced software is predominantly offered by brokers in Australia  like TMGM, ANZ Share Investing and CommSec.
The most established brand that offers this platform alongside MetaTrader is FP Markets. But Iress accounts are only offered to clients of the broker's Australian company. The broker's clients in Cyprus have access to MetaTrader only.
Another feature of Iress is that it is aimed at professional clients and its use is usually associated with higher investments.What makes this platform distinctive is the transparent Direct Market Access (DMA) which allows for CFD trading in shares, futures and ETFs without the use of intermediaries. The platform features include sophisticated charting, real-time pricing, access to market heat maps and live streaming news. The modular structure of the Iress platform enables the trader to customise workspace based on information and data of his choosing.
FP Markets offers Iress with separate account types for CFD trading with a minimum deposit between 1,000 AUD and 50,000 AUD. In addition, unlike the other platforms, its use is not free – the trader must pay a monthly fee of 55 USD. This fee is waived when a certain amount of trades are executed or commissions generated.