RECOMMENDED FOREX BROKERS
Do not invest more money than you can afford to lose.
TradingView, a retail charting tool and a trading platform in one, said on Thursday it has started executing trade orders for forex, US stock, and US futures, using technology solutions from CQG, a US-based company creating financial software solutions for market technical analysis, charting, and electronic trading. The charting  company announced last week it is launching a trading service, with US forex giant Forex Capital Markets, or FXCM, being the first one to offer the service.

The service is available both for demo and live accounts via broker that have CQG-powered accounts.
TradingView noted that initially in some cases traders could see an error message saying their account has been disabled, even though their brokers use CQG as an option. In such cases they need to contact their brokers to enable the service.The reason for such errors is that the onboarding process is still going and some brokers are in the middle of it.
Trading via TradingView could be completed in several easy steps:
Log into your free or upgraded TradingView account.
If you have a CQG-powered trading account – open the Trading Panel on the chart.
Type in your account credentials, the ones you got from your broker (not the TradingView login!). Choose LIVE or DEMO depending on your account type.
Trade!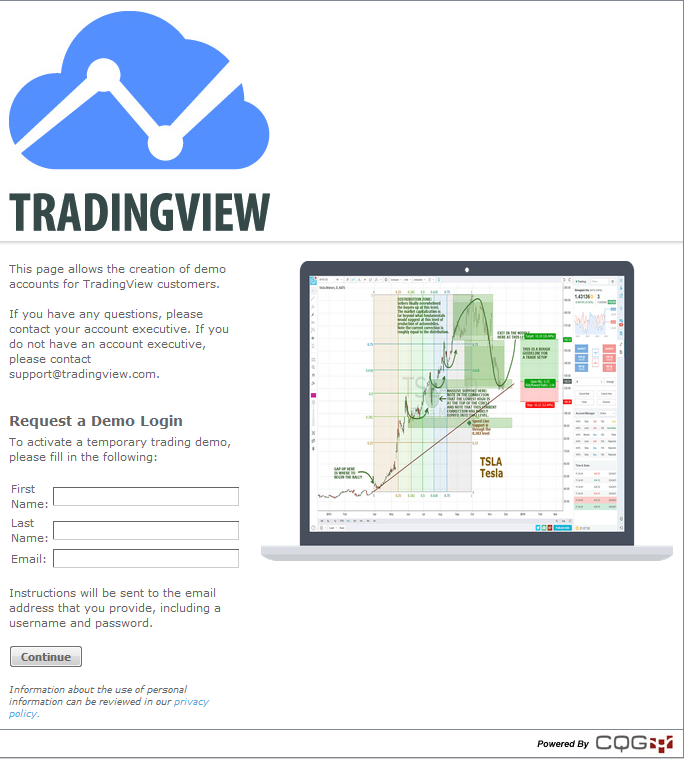 TradingView provides real-time US futures data for no extra charge for traders with live accounts. To access ut they just need to validate their account through TradingView's interface.
The company noted that it does not store traders' account credentials and that it is a certified CQG tech partner that uses a specialized WebAPI to transfer orders.
CQG's products include trading platforms and charting, analysis and market data tools. Among the brokers that use CQG are Gain Capital, Rakuten Securities, Oanda, DirectFX, Wedbush, and others.
TradingView features customizable charts, basic and advanced ones alike, as well as more than 50 drawing tools that can be used for understanding and analyzing the financial markets. It is web-based and uses HTML5 charts. Its charts work on all browser and operating systems. The platform provides free access to data about a wide range of trading instruments, among which forex, Bitcoin, stocks, futures, all major indices, and contracts for difference (CFDs).
Source: TradingView