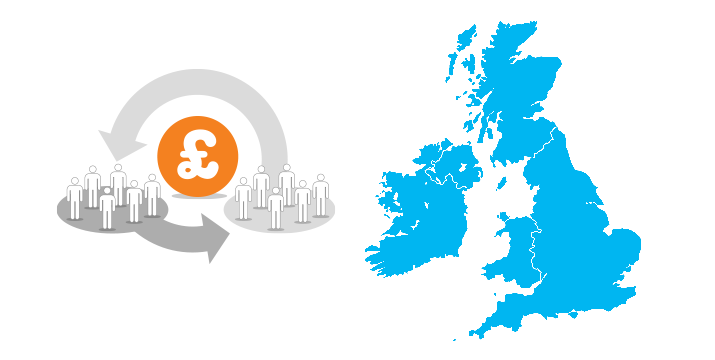 Do not invest more money than you can afford to lose.
Peer-to-peer (P2P) lending is a type of crowdfunding based on loans. Borrowers get loans from investors, being it individual or institutional. Both borrowers and lenders benefit from better interest rates and returns on investment, respectively, compared to traditional financing methods. In addition, there are no intermediation parties as money change hands directly.
We recently made a review of some of the major crowdfunding websites in the UK and the US. Following is a list of some of the largest platforms that offer peer-to-peer lending services:
Zopa (www.zopa.com) –
Since 2005 when the website was launched, about 150,000 people have received £1.62 billion in personal loans. The website uses a peer-to-peer (P2P) lending model. The average loan size is £7,300,but loans could be as low as £10 or as high as £1 million.
Funding Cirlce (www.fundingcircle.com.uk) –
Funding Circle is a loan-based crowdfunding website. It has helped businesses borrow from lenders about £1.5 billion in total. Loans range from £5,000 to £1.0 million. The website has 51,495 registered lenders and 15,000 businesses that borrow.
RateSetter (www.ratesetter.com) –
RateSetter is a brand operated by Retail Money Market Ltd. Since its launch in September 2010, some £1.4 billion has been raised through the platform. Both personal and business loans can be obtained through RateSetter. Investors can earn a return of up to 4.8% and borrowers can borrow at 7.6% representative annual percentage rate. The platform offers prospective clients to invest a combined minimum £1,000 for a period of one year and get a £100 bonus in the rolling market.
ThinCats (www.thincats.com) –
ThinCats is an online peer to peer lending platform for secured business loans. It is a brand of Business Loan Network Ltd. The platform claims to ensure an average of 9% interest rate. Investors make bids with a minimum amount of £1,000. More than £188.5 million have changed hands within the ThinCats community.
BridgeCrowd (www.thebridgecrowd.com) –
This is a platform created for the purpose of directly connecting businesses that want to borrow and lend money between each other without the assistance of banks. The only requirement is that borrowers need to mortgage a property they own (the maximum loan to value is 70% of the property's value). Borrowers pay a monthly interest of up to 1.5% on the loan they receive, most of which goes to the lenders and a small portion of it goes to the platform developer. BridgeCrowd has facilitated the lending and borrowing of more than £68.5 million in total.
LandBay (www.landbay.co.uk) –
LandBay provides P2P lending on buy‐to‐let mortgages.  It is among UK's fastest growing P2P lending platforms. LandBay has facilitating the lending of nearly £43 million so far. Retail and institutional investors can build a portfolio and start with as little as £100 and earn up to 3.99%.
LendingCrowd (www.lendingcrowd.com) –
Launched in late 2014, the platform has more than 1,700 investor signed up. By January 2016, there were more than  £4.5 million loaned through the platform.
Buzzbnk (www.buzzbnk.org) –
Buzzbnk presents itself as the UK's first crowdfunding and peer-to-peer lending platform for social enterprises and charities. Buzzbnk merged with Trillion Fund Ltd November 1, 2014. Buzzbnk.org continues after the merger on its mission to help social enterprises and charities raise the funding and support they need. More than 141 projects have received funding through Buzzbnk of a combined nearly £1.1 million.
ReBuilding Society (www.rebuildingsociety.com) –
Although launched in September 2012, the platform funded its first deal in January 2013. Some £10.4 million in loans have been secured through the platform out of £28 million pledged. Loans have a default rate of 9.6% and an average gross yield of 16.9%. Loan range in sizes from £25,000 to £2 million.
Money&Co. (www.moneyandco.com) –
This is a lending website for businesses that offers crowdfunding, business loans, P2B and P2P lending. Businesses can finance growth with flexible loans of up to £3 million and lenders earn typical annual returns of between 6%-10%. The platform is operated by Denmark Square Ltd.